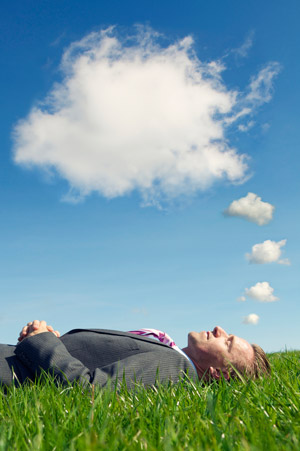 Cloud Computing provides a highly flexible pool of commoditized and shared IT services which can be rapidly provisioned with minimal management and support overhead.
Cloud Computing is changing the way enterprises support and consume technology services. It relies on its capability to offer the provision of dynamically scalable resources as a service, at a consistent service level with a known cost variable.
These on-demand resources can be configured by self-service mechanisms and consumed as a pay-per-use service, using internet technology. This process allows for dramatic increases in flexibility of IT resources and the cost associated with them, allowing for transparent cost control.
Adopting a cloud approach will only be successful if it is supported by business drivers. A business aligned strategy will ensure robust migration, integration and operational adoption of cloud service.
Why move to the Cloud?
The pace of business keeps accelerating creation several challenges for IT, including a loss of control over systems that are seen as expensive to build and to operate. Business is demanding a greater focus on business driven technology, to maintain relevance and competitive advantage in the ever evolving global economy.
Cloud Computing provides a unique opportunity to:
Ensure greater focus on innovation by reducing IT functions that are high in management, support and financial costs,
Develop integration frameworks that bring business, its suppliers and customers into tighter collaboration and connection,
Transform traditional IT to an on-demand, service delivery orientation with improved balance between Capital Expense procurement and Operational Expense consumption
Aryon provides a set of Cloud services based on your specific business requirements. Cloud solutions can be developed and implemented on-site, off-site, or a mixed hybrid approach matching your specific needs, with appropriate Service Level Agreement and billing models.
Aryon Cloud Solutions
Aryon provides a full range of solutions which meet the key functions needed by business.  We are committed to delivering these solutions with service levels designed specifically for your business needs.
Aryon provides a set of services covering the entire spectrum of the ongoing transformation cycle generated by Cloud Computing, from Consulting to Operation, including:
Cloud Transformation Consulting: Aryon offers a structured approach to help you to transform your business goals into cloud technology targets, including steps for reaching your initial and long term objectives.
Cloud Readiness Assessment: A disciplined approach in a short timeframe to determine how cloud services can provide value to your business.
Cloud Architecture Assessment: A structured study based on a Services Oriented Architecture to assess that your cloud service integration is consistent, efficient, aligned with key objectives and at acceptable an risk profile.
Aryon 's strong partner ecosystem work with us to deliver exceptional cloud services, including:
Messaging and Collaboration,
Data Backup and Disaster Recovery,
Infrastructure and Platform as a Service,
Security Services,
Customer Relationship Management,
Web Conferencing,
Virtual Desktop Services, and
Content and Document Management.
If you want to realise true business benefits from Cloud Services, Contact the team at Aryon today.