There's a lot more than three reasons to love Microsoft Power BI. In this article, I'll be introducing you to it and highlighting three great features: dashboards, reports and data.
Power BI is an online service where you can quickly create dashboards, share reports, and directly connect to (and incorporate) all the data that's important to you. If you're an Office 365 user, then Power BI integrates straight into your Office 365 Portal, easy! If not, you can use it standalone just as easily!
In PowerBI, you create dashboards that keep you informed about what's most important about your business. Just like the dashboard in your car displays important information, such as its speed, its fuel level, health of the engine, with the dashboard in Power BI you can display important information about your business.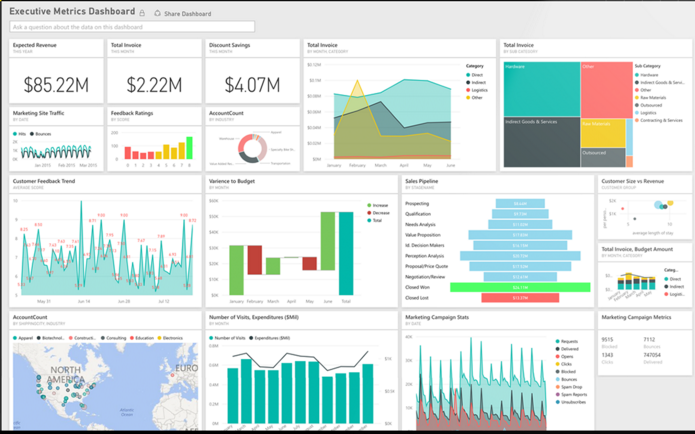 The dashboard displays information on tiles. Tiles are based on reports you define. To access the reports, it's as easy as clicking on a tile to see the underlying report.

Your reports are created from an easy to use and flexible report authoring tool, which access the wide variety of data sources PowerBI is able to interpret and ingest.
Microsoft Power BI is a powerful, fast and simple tool to provide you with timely insight in a way that's easy to see so you can keep your finger on the pulse, collaborate valuable insight and make fast and effective decisions.
As an added bonus, standard PowerBI is free and you only pay a small monthly fee to use the professional edition of PowerBI for only the cost of a couple of coffee's a month!
We love this product and we think you will too!
Want to see a bit more? Microsoft have some great short video clips on their PowerBI Channel on YouTube.  Check them out here: https://www.youtube.com/user/mspowerbi
If you like it, have a play. Everything you need to get started is just here: https://powerbi.microsoft.com/
If you feel you could get real value from Power BI and you want an expert consultant or technical engineer to help you get up and running quickly or to extract maximum value, please let us know below!