Nimble Storage arrays and Veeam backup and replication software create a powerful, easy to use and affordable data protection solution. With Veeam Software and Nimble Storage, you can reduce costs and protect your virtual infrastructure investments while simplifying your backup processes.
Learn more by reading the Aryon Solution Brief Nimble and Veeam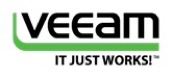 If you'd like more information about Nimble and Veeam, please let us know below!